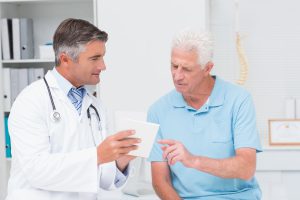 It's Your Right To Choose
Did you know that you have the right to choose where you want to have physical therapy? After talking with people, it is astonishing to me to find out how many patients don't know this. Most have been handed a predetermined referral from their primary or referring physician and told where to go get physical therapy.
Most of us trust our Doctors without hesitation that our well-being is in their best interest. I believe this to be true. They have sworn to serve the public under the "Hippocratic oath." In this oath, it states, "Respect patients' right to reach decisions with you about their treatment and care. Support patients in caring for themselves to improve and maintain their health." "You are personally accountable for your professional practice and must always be prepared to justify your decisions and actions."
It's because we trust them, that we accept their decision where to get physical therapy. However, it is unethical and illegal for a Dr. to tell you that you MUST see a particular physical therapy clinic. In fact, they should provide you with a list of options.
With this said, it is absolutely understandable, and certainly reasonable that your physician would recommend a physical therapist who specializes in your particular needs. For example, if a female has a women's health condition, it would not be in her best interest if the physician referred her to a physical therapist that specializes in sports rehabilitation for athletes. The physician would, obviously, refer her to a physical therapist that specializes in women's health rehabilitation. Well, let's hope so anyways.
The American Physical Therapy Association has a vision called "Vision 2020" stating, "By 2020, physical therapy will be provided by physical therapists who are doctors of physical therapy, recognized by consumers and other health care professionals as the practitioners of choice to whom consumers have direct access for the diagnosis of, interventions for, and prevention of impairments, activity limitations, participation restrictions, and environmental barriers related to movement, function, and health."
We are now seeing this come to fruition as almost all physical therapy schools now offer a physical therapy doctorate program. Insurance companies such as Blue Cross Blue Shield, in many States, are covering patients who need physical therapy without a doctor's referral.
Therefore, a patient may call or just walk into a physical therapy clinic to get treated if their insurance allows it without a Drs. Referral. With that said, it would be in the patient's best interest to see a therapist that specializes in treating the condition that they have. For example, if you have back or neck pain, it would be in your best interest to seek out a physical therapist or a clinic that specializes in the back or neck.
Not every physical therapist is the same. Some seek out post doctorate, advanced certifications with extensive ongoing education. They do this because their passion is to provide the patient with the best possible care, with the skills and knowledge they have gained, to get the patient better faster.
I believe most Doctors and physical therapist mean well, but next time you get a referral or need a physical therapist, I challenge you to question, "Am I going to get the best possible care for my needs at this clinic?
Kind Regards,
Brett Jenks, PT, DPT, Cert. MDT
Back Country Physical Therapy
http://www.backcountrypt.com
Phone: (307) 461-9669
Fax: (307) 333-0355